Stormwater pollution is one of the biggest threats to local water quality and public health in many places in the US, and around the world. It carries dirt, trash, toxic chemicals, and disease-carrying organisms. The pollution it causes has been shown to be just as bad as the pollution from large factories and sewage plants, polluting our drinking water and the oceans.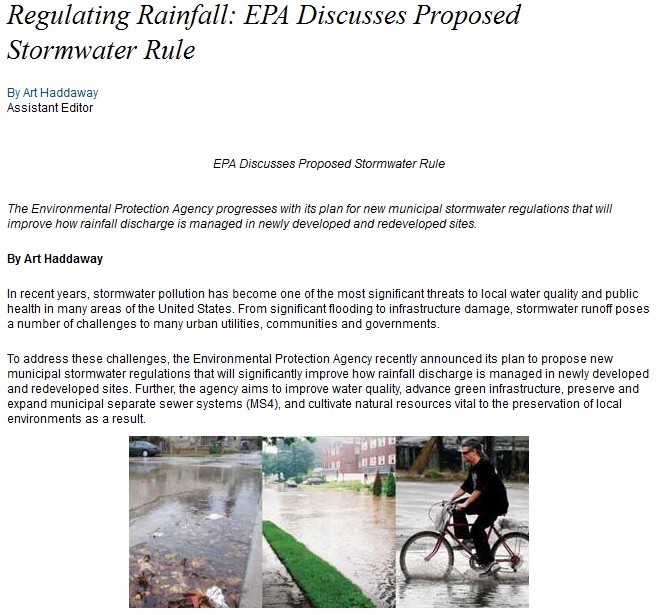 Because of this, the EPA is proposing new storm water management regulations to help decrease the damaging effects of stormwater. An article published in Water World discusses the efforts by the EPA:
To address these challenges, the Environmental Protection Agency recently announced its plan to propose new municipal stormwater regulations that will significantly improve how rainfall discharge is managed in newly developed and redeveloped sites.

Further, the agency aims to improve water quality, advance green infrastructure, preserve and expand municipal separate sewer systems (MS4), and cultivate natural resources vital to the preservation of local environments as a result.
The new proposed regulations are particularly focused on the implementation of performance standards for new and redeveloped sites of construction projects. In addition, they will create a single set of stormwater best management practices for all municipal separate sewer systems.
These include retrofitting existing infrastructure with advanced rainwater control measures such as those provided by HydroLogic Solutions, who offer advanced StormChamber water management technologies.
Christopher Kloss of the EPA's Office of Water revealed some of the details at a recent webinar:
"Primarily what we're looking to do is have stormwater controls incorporated into the development and redevelopment process when we have opportunities to incorporate those cost-effective and flexible controls rather than address these urban areas after they've already been developed and the costs are much greater, as we've done in the past."
One of the new regulation's goals is the advancement of green infrastructure among site-specific projects. EPA's stormwater program will help reduce water pollution by promoting small-scale initiatives such as green roofs, rain barrels and cisterns, rain gardens, pocket wetlands, permeable pavements and other green projects.
The strategies for reducing urban storm water pollution are meant to be flexible so local decision makers have the ability to set their own restrictions particular to their own watersheds. The solutions can be used at the neighborhood level on individual sites, or can be implemented in a more widespread municipal storm water management program.
(Article Excerpt and Image from Regulating Rainfall: EPA Discusses Proposed Stormwater Rule, Water World, December 2013)