Many Coloradans were caught off guard by the sweeping floods that ravaged the state last September 2013. As USA Today reports: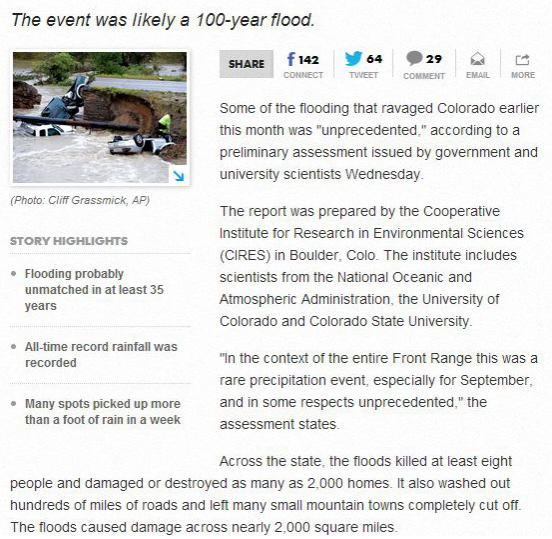 Some of the flooding that ravaged Colorado earlier this month was "unprecedented," according to a preliminary assessment issued by government and university scientists Wednesday.
The report was prepared by the Cooperative Institute for Research in Environmental Sciences (CIRES) in Boulder, Colo. The institute includes scientists from the National Oceanic and Atmospheric Administration, the University of Colorado and Colorado State University.
"In the context of the entire Front Range this was a rare precipitation event, especially for September, and in some respects unprecedented," the assessment states…
The event "was likely a 100-year flood (or more accurately: a 1% probability per year flood)," the report states, and that all-time record or near-record precipitation was recorded during the week of Sept. 9-15 across the Front Range. The Front Range is a mountain range of the Rockies that runs north-south from southern Wyoming to central Colorado and includes Denver, Boulder, Fort Collins and other cities.
The article says that damage across the state stretched almost 2,000 miles and harmed or destroyed some 2,000 homes. Hundreds of miles of roads have also been washed out, cutting off several mountain towns in the region.
Fortunately, people like you can take small but meaningful steps to prevent such disasters. As is often the case, garbage enters a city's drainage system and blocks the flow of water, causing floods during heavy rainfall. You can begin by properly segregating your trash and handing them over to garbage collectors or nearby recycling centers to be properly disposed of.
You can also install a storm water management system in your home. Also known as a stormwater BMP, it's basically a huge chamber that collects excess water and slowly releases it to prevent floods. HydroLogic Solutions, for example, offers many an efficient stormwater BMP to both commercial and residential clients.
Of course, floods like those in Colorado are natural disasters. However, by properly disposing of your garbage or even installing a storm water BMP chamber, you can mitigate the damage that flooding can do to your city and your home.
(Info from: Report: Colorado flooding was 'unprecedented', USA Today, September 16, 2013)