Effective storm water management will be one of the main agendas for this year's Western New York Storm Water Conference and Tradeshow at the Buffalo Niagara Convention Center. The event aims to educate municipal officials, contractors, and the general public on how to properly manage storm water runoffs and how to protect minor and major water sources from contamination. An article published on BuffaloNews.com also reiterates that the convention is set to feature a major official involved with the preservation of one of the America's foremost water bodies, the Great Lakes.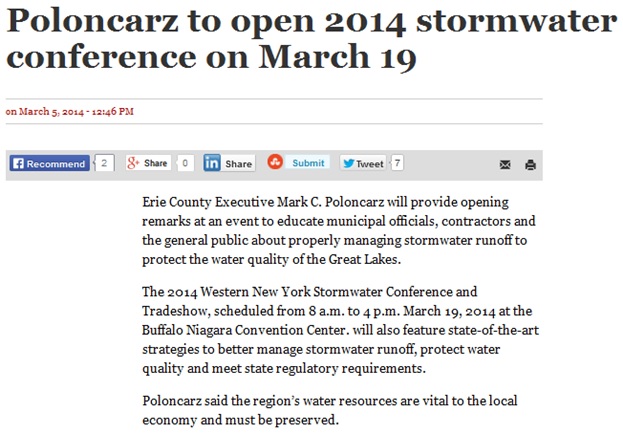 "Erie County Executive Mark C. Poloncarz will provide opening remarks at an event to educate municipal officials, contractors and the general public about properly managing stormwater runoff to protect the water quality of the Great Lakes.

"Proper storm water management is a key component in preventing harmful pollutants from entering our waterways and can also help to retain valuable water for other purposes," he said."
Backed up by the Erie County Department of Environment & Planning (in partnership with the WNY Storm Water Coalition), Poloncarz is set to provide the public a bird's eye view of the pollution situation in the Great Lakes, as well as other water sources across the United States. Reiterating a passage from his book, Initiatives for a Smart Economy, Poloncarz pointed out that the country's water resources should be preserved because they are vital parts of the economy.
He also noted that to do this, an array of solutions for storm water best management practices must be implemented. During his interview with Amherst Times, Poloncarz emphasizes the role of everyone in the preservation of environmental resources – and stormwater management is a critical tool.
The movement to protect the world's remaining freshwater sources is stronger than ever, and statistical data from National Geographic supports this campaign. Only 0.007 percent of Earth's waters are clean and fully-accessible to 6.8 billion people. Even worse, making full use of that tiny fraction is limited by the pollution caused by the same people who need it.
Indiscriminate littering doesn't only lead to a dirty environment. When storms hit, rainwater makes contact with roofs, pavements, and other man-made surfaces likely to be contaminated by harmful chemicals. Storm drains usually send this runoff to nearby bodies of water untreated, contributing to water pollution.
However, it's not too late. This is why companies like HydroLogic Solutions, creator of StormChamber, exist, to devise innovative solutions in dealing with storm water runoffs, and protecting the most vital water sources still available. With the rising number of more environmentally-aware citizens, the world can still very much see the silver lining beyond the dark cloud.
(Source: Poloncarz to Open 2014 Storm Water Conference on March 19, The Buffalo News, March 5, 2014)