In light of climate change and a severe drought that some experts say is the worst in state history, California Gov. Jerry Brown has signed Senate Bill 985, which aims to encourage the creation of reliable stormwater solutions to boost the state's severely inadequate water supply.
The Santa Clarita Valley Signal says that this bill is the latest in a line of legislative actions aimed at improving water sustainability in the state. Specific information about the bill are as follows:
Senate Bill 985 improves the stormwater resource planning process to encourage the capture and use of stormwater and dry weather runoff. It requires stormwater resource plans to identify opportunities to use parks, school sites, government office buildings and complexes and other existing publicly owned lands to capture and reuse stormwater, among other requirements. Stormwater has the potential to supply up to 630,000 acre feet of water in Southern California and the Bay Area alone, roughly the equivalent of a year's supply for the City of Los Angeles.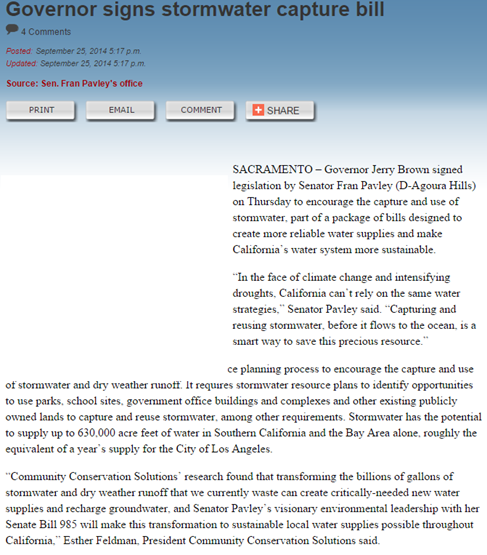 Now that SB 985 has been passed into law, California can expect to see a number of stormwater management projects taking place in the near future. The Natural Resources Defense Council has named the South Coast and the Bay Area as the best places to establish such projects, at present. Though, once additional research has been carried out, other regions could prove to be just as promising.
Fortunately for developers and government officials, there's no shortage of commercial stormwater systems that can meet (or even exceed) their expectations, like StormChamber and SedimenTrap™.
This, however, doesn't mean that planners can altogether skip the drawing board because even efficient runoff management systems need to take certain factors into account. For example, stormwater storage facilities shouldn't just be large enough to hold great amounts of water; they should also be protected from contamination. In addition, these facilities should be located away from areas with large concentrations of people, like schools, for the public's safety.
In fact, the Environmental Protection Agency encourages planners to implement low impact development (LID) strategies so that the risks associated with stormwater management can be mitigated.
One LID practice involves using adjacent trees and forests to absorb excess water and prevent it from contaminating streams, lakes, and groundwater supplies. California's northern regions, with their redwood forests, seem to be a good place to implement these natural, yet effective stormwater management solutions.
Of course, recycling stormwater is just one way to boost the state's water supplies. Hopefully, SB 985, and other legislation, will help to prepare California for more serious droughts that the experts say are certain to come in the future.
(Source: Governor signs stormwater capture bill, The Santa Clarita Valley Signal, September 25, 2014)