A News Channel 9 article published on September 22, 2013 reports that stormwater runoff is ruining the yard of homeowner Sandra Johnson in Cleveland. "Sandra Johnson says the issue all started two years ago when a piece of land above theirs was rezoned for commercial use. Since then she says every time it rains, the stormwater runs through the wrong drainage pipe from a nearby retention pond and into her yard on Ellis Circle in Cleveland.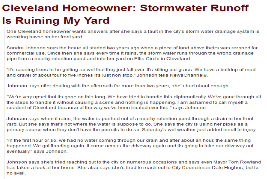 "It's causing trees to be getting so wet that they just fall over. It's killing our grass. We have a buildup of mud and gravel of about four to five inches it's just non stop," Johnson then added: "In the first hour or so, we had no water coming through our drain and after about an hour, the same thing happened. We got flooding again. It came across the driveway again and its going to take our driveway out eventually."
This mishap was the result of poor stormwater management. Stormwater that does not seep into the ground usually enters a system of underground pipes and is released into nearby bodies of water. If stormwater is not handled properly, it can either destroy surroundings or cause water pollution.
In order to avoid these problems, effective stormwater solutions should be carried out. Installing or building stormwater systems that maintain water quality and provide retention, detention, and conveyance is a cost-effective way to prevent flooding. Companies like HydroLogic Solutions offer this durable stormchamber system to ensure proper water flow and filter out unnecessary waste such as rocks or soil.
Water pollution due to stormwater runoff can also be avoided by keeping your surroundings clean. Make sure not to dump anything into the storm drains. Keep septic systems well-maintained and manage yard waste properly by removing debris and other plant waste. Pet litter should also be managed properly by placing it in a double bag and throwing it into the garbage bin. Vehicle fluids can also affect stormwater, so recycle any anti-freeze and used oil. Don't forget to maintain your car as well to avoid fluid leaks.
Once these environmentally-friendly stormwater management solutions are put in place, stormwater runoff problems can be rectified. Not only will properties be maintained, water pollution will be avoided as well.
(Info from Cleveland Homeowner: Stormwater Runoff is Ruining my Yard, News Channel 9, September 22, 2013)